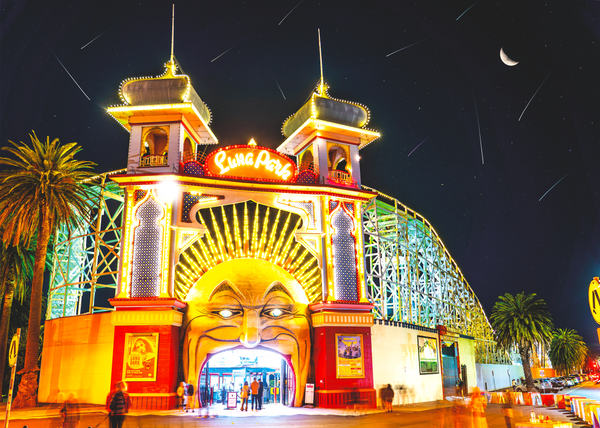 PLEASE NOTE: THE PUZZLES WILL BE SENT OUT IN THE FIRST WEEK OF JUNE:
IF YOU CHOOSE THE "PICK UP" OPTION, FRAMES NOW WILL NOTIFY YOU WHEN YOUR ORDER IS READY.

Introducing my stunning 1000 piece jigsaw puzzle of Luna Park!
This high-quality puzzle is the perfect challenge for puzzle enthusiasts and Melbourne lovers alike.
Featuring a detailed and vibrant image of the iconic amusement park, this puzzle captures the excitement and whimsy of Luna Park perfectly.
At 1000 pieces, this puzzle is sure to provide hours of entertainment and relaxation for puzzlers of all skill levels. The puzzle pieces are made of sturdy cardboard and feature a precision cut that ensures a perfect fit every time.
Once completed, the finished puzzle measures 70 x 50 cms and is perfect for framing and displaying in your home or office. It's a great way to commemorate a fun day at Luna Park or simply showcase your love for Melbourne's famous amusement park.
Our Luna Park puzzle comes in a sturdy box that features a full-color image of the puzzle for reference. It also includes an A3 poster that can be used as a guide while assembling the puzzle.
Overall, our Luna Park puzzle is a must-have for puzzle lovers and anyone who appreciates the magic and fun of Luna Park in Melbourne.
Get yours today and start piecing together the excitement!
I would rate the difficulty of this puzzle at a 9.5/10.
Finished size: 70CM X 50CM